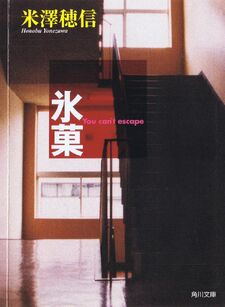 Classic Literature Club series[1] (〈古典部〉シリーズ , "Koten-bu" shirīzu), or Classics Club Series[2], or Koten-bu Series[3] is a novel series written by Honobu Yonezawa and serialised in Kadokawa Shoten. Currently, the series consists of 6 volumes. A seventh novel has been confirmed by the author on Twitter.[4]
Also one special volume named Honobu Yonezawa and the Classics Club was published. It's dedicated to the process of Classic Literature Club series creation and also includes one new short story about Houtarou Oreki.
Synopsis
"Everyone wants to live their high school life to make many good memories". This high school student motto doesn't interest Houtarou Oreki. He doesn't want to "waste" his energy on relationships, sports or some other activity. Instead he wants is to "save his energy" by all means. Because of it he has no interest whatsoever in joining any clubs upon entering Kamiyama High School.
But his life changes when he receives a letter from his older sister Tomoe in which she wants him to enter the Kamiyama High School Classic Literature Club (Classics Club), which was in danger of getting abolished as all previous members have graduated. Being afraid to refuse his sister Houtarou does so, thinking that this won't change anything in his life - he expected to be single club member. But he finds out that he was wrong - when he enters the club room, he sees a beautiful girl, standing near the windows and looking to outside. She notices Houtarou and introduces herself. She is Eru Chitanda from 1-A class, and a member of Classics Club. After some time, his old friends Satoshi Fukube and Mayaka Ibara join to club as well. The newly reformed Classics Club find themselves involved in all sorts of mystery-solving escapades.
Volume list
Each volume (except vol. 6 and Honobu Yonezawa and the Classics Club) was given different Japanese and English title. In this article translated Japanese title used as main.
No.
Title
Release date
ISBN
1
Hyouka

氷菓 : You can't escape / The niece of time

October 31, 2001[5]
ISBN 978-4-04-427101-5
"Energy conservation" advocate Houtarou Oreki enters the Classics Club together with girl named Eru Chitanda who forces him to solve a mystery hidden in the anthology "Hyouka" to find out the truth about events which took place 33 years ago.
2
The Credit Roll of the Fool

Gusha no Endo Rōru (愚者のエンドロール): Why didn't she ask EBA?

July 31, 2002[6]
ISBN 978-4-04-427102-2
Last third of August, spring break. Classics Club's members were asked to choose appropriate ending for the class 2-F's uncompleted mystery film from variants presented by three amateur detectives from the film production team.
3
The Kudryavka Sequence

Kudoryafuka no Junban (クドリャフカの順番): Welcome to KANYA FESTA!

June 30, 2005[7]
ISBN 978-4-04-427103-9
Plot evolves around events occurring during the three-day Kamyama High School Cultural Festival nicknamed "Kanya Festival". Classics Club is trying to solve "Juumonji case", a case of serial theft in school during festival.
4
The Doll that Took a Detour

Tōmawari Suru Hina (遠まわりする雛): Little birds can remember

October 3, 2007[8]
ISBN 978-4-04-427104-6
Collection of new short stories. Following three previous stories, plot evolves around four Classics Club's members from time they enrolled to the high school to spring break of the following year.
5
The Approximation of the Distance of Two

Futari no Kyori no Gaisan (ふたりの距離の概算): It walks by past

June 25, 2010[9]
ISBN 978-4-04-100325-1
Classics Club members become second-year students. While running the 20 km June marathon named "Hoshigaya Cup", which is also a deadline for joining clubs, Houtarou tries out to find a reason why first-year student Tomoko Oohinata who was eager to join Classics Club at first, changed her heart and announced her withdrawal.
6
Even Though I'm Told I Now Have Wings

Imasara Tsubasa to Iwaretemo (いまさら翼といわれても)

November 30, 2016[10]
ISBN 978-4-04-104761-3
Collection of short stories. Before her solo performance at Choral Festival Eru suddenly disappears. Houtarou is forced to use various hints to deduce her whereabouts. Also it includes five other stories.
Adaptations
There is an ongoing manga adaptation illustrated by Task Ohna.
The anime adaptation Hyouka by Kyoto Animation covers Vols. 1-4 of the Koten-bu series series, as well as a few short stories (Is The Mountain Range Sunny?, later included in Vol. 6). At the end of each episode the subtitle of the volume that the story arc is from is displayed.
References
See also
External links