Warning: information below contains some spoilers!
During the Kanya Festival, Satoshi participates in a quiz contest with the intention of advertising "Hyouka" anthology. He makes it to the final four and runs into an acquaintance of his called Tani from the school's Go Club, who tells him about the strange theft happened in his club. Meanwhile, various clubs report that various small things have been stolen from them as well, and that at each crime scene a note was left by the culprit calling himself "Juumonji".
Synopsis
Kanya Festival has begun, and one of its first events is Quiz Trial 7, a quiz competition organised by the school's Quiz Research Society. Satoshi, wearing his Saturn outfit, decides to participate in it and use his "database" to show everyone who is "the true king of trivia" here. The first part is easy, where all the participants have to either stand one side of a given line, with one side meaning "true", and the other meaning "false". When the host asks the question, participants take their guess and choose their side, and when the times runs up, the answer is revealed.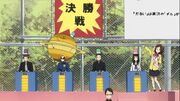 Satoshi and other three people make it to the final round, which is organised as a quiz game with a buzzer. Before Satoshi goes up to his buzzer station, another participant calls him. Satoshi recognises this person as "Tani-kun" (Koreyuki Tani) from school's Go Club. "Tani-kun" tells Satoshi that he has something interesting to tell him. However, Satoshi has to go to his station and introduce himself to the public.
During introduction, with the help of his flashy Saturn outfit, he advertises the Classic Lit Club emphasising that they managed to discover the mystery behind the name of Kanya Festival. When the announcer asks what this mystery is, Satoshi answers that anyone who wants to find out more about this mystery should buy a copy of "Hyouka" anthology sold at the Classic Lit Club room. After that Satoshi feels that he was able to make good advertising of "Hyouka".
"Mysteries" solved
Reason behind Mayaka's Melancholy case - pt. two
Trivia
This episode is adaptation of Ch. 2-2 "Quiz Trial" and Ch. 2-3 "Yet Another Storm" from The Kudryavka Sequence.